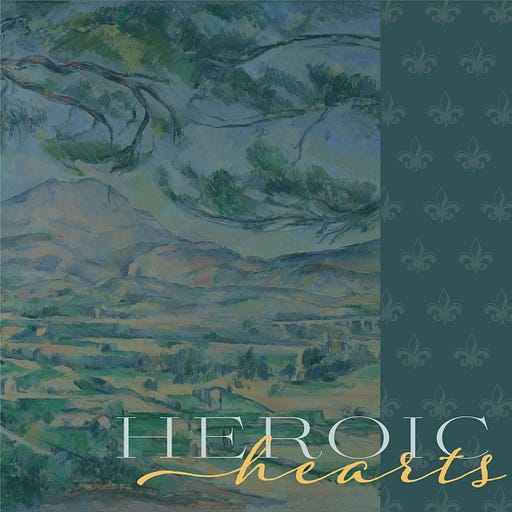 Jun 28, 2022 • 47M
Thérèse's Second Conversion and Papal Visit
Season 2 Episode 2
Heroic Hearts is a podcast about healing, enchanting, and elevating our hearts through the stories and spirituality of St. Joan of Arc and St. Therese of Lisieux.
In this episode, Walter and Amy explore the themes of "learning to serve" and "daring to ask" seen in St. Thèrése's life during the various trials of her adolescence. How was Thèrése able to transcend the rejection and loss of her early life in order to practice what Heather King calls an "agape of wholeness"? We'll discuss some of the pivotal moments in Thèrése's life that show us the power of grace and conversion in our spiritual lives.
Reflective Questions
Have you ever had a "Christmas Eve" moment of immediate and grace-filled conversion in your life like St. Thérèse?
In what ways may God be asking you to lay down your life for others right now as you learn to "die to self"?
Prayer
God, be with me in my loneliness. 
God, give me the courage to stay the course. 
God, lead me to the people who will help me to discern your will. 
God, let me be willing to shed my blood to the last drop, even though most of the time I'm not willing to shed even one drop. 
God, if I'm called to go against the wishes of those who are close to me, let me do so with humility and love. 
God, grant me the serenity to accept the things I cannot change, the courage to change the things I can, and the wisdom to know the difference.
Resources
Hosts: Walter Emerson and Amy Chase
Contact: podcast@heroic-hearts.com
Follow us on Instagram! heroic2hearts
Thanks for listening to Heroic Hearts! Subscribe for free to receive new episodes.
1
King, Heather. Shirt of Flame: A Year with St. Thérèse of Lisieux. Brewster, MA: Paraclete Press, 2011.