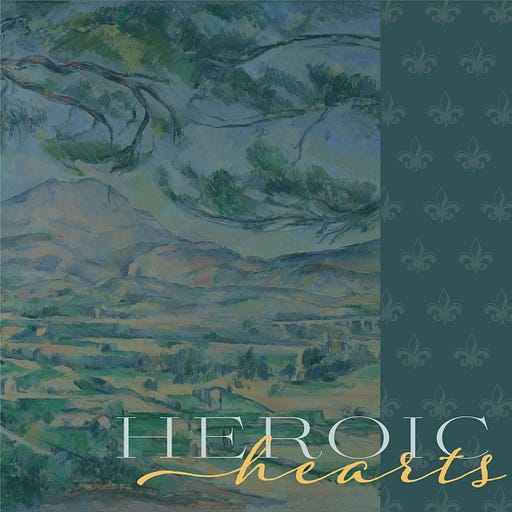 Jul 12, 2022 • 49M
Big Desires, Little Way: Living like St. Thérèse
Season 2 Episode 4
Heroic Hearts is a podcast about healing, enchanting, and elevating our hearts through the stories and spirituality of St. Joan of Arc and St. Therese of Lisieux.
Join Walter and Amy in this pivotal episode wherein they explore St. Thérèse's famous spirituality of "the Little Way". How did St. Thérèse reconcile her desires for greatness while pursuing spiritual humility? What did penance look like in her life and how can we practice it in our own? What can we learn from St. Thérèse about courage in the face of aridity, or spiritual dryness? If you ever struggle with overcoming judgment or negativity (and who doesn't?), let Thérèse's story this week encourage you!
Reflective Questions
How do you (or could you) apply Thérèse's Little Way in your own life?

When have you felt aridity or emptiness in your spiritual life? What was that experience like?
Reading
This episode: Heather King's Shirt of Flame, Chapters 7 and 8 (July and August)

Next episode: Heather King's Shirt of Flame, Chapters 9 and 10 (September and October)
Prayer
Oh God, have mercy on us. Show us how to love each other.  I don't know how to love. I can't separate my pain from self-pity, dishonesty, selfishness. I don't know how to turn my will and my life over to your care. 
Sometimes I can't feel you anywhere: not in solitude, not when I'm with people.  Sometimes I feel like any move I make is wrong.  Sometimes I feel as if I'm invisible and that no one sees or cares about the good  I try to do.  Sometimes I feel like I'm going to be alone all my life.  Sometimes I don't trust anyone, and maybe you, dear God, least of all.
Resources
Hosts: Walter Emerson and Amy Chase
Contact: podcast@heroic-hearts.com
Follow us on Instagram! heroic2hearts
1
King, Heather. Shirt of Flame: A Year with St. Thérèse of Lisieux. Brewster, MA: Paraclete Press, 2011.