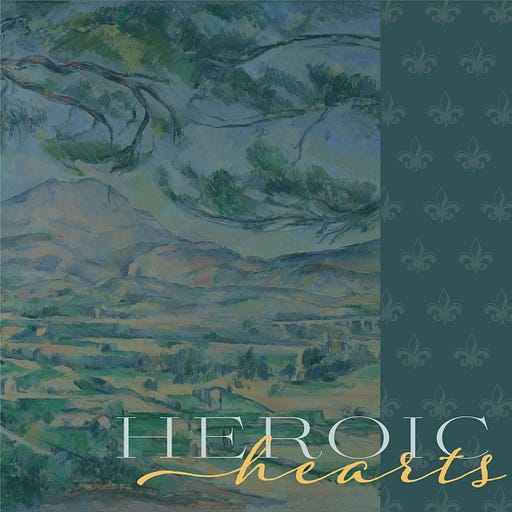 Jun 21, 2022
The Childhood Struggles of St. Thérèse
Season 2 Episode 1
Heroic Hearts is a podcast about healing, enchanting, and elevating our hearts through the stories and spirituality of St. Joan of Arc and St. Therese of Lisieux.
Welcome back to Season 2 of Heroic Hearts, in which we will discuss the spiritual journey of St. Thérèse of Lisieux!
In this episode, Walter and Amy introduce the season's featured book, "Shirt of Flame: A Year with St. Thérèse of Lisieux" by Heather King. In the first two chapters, King draws a portrait of Thérèse as a loving but sensitive child who lost her mother early in life and suffered from a mysterious and debilitating illness. In spite of these challenges, Thérèse always remained open to grace and spiritual childhood.
Reflective Questions
In what ways can you identify with Thérèse that might help you in your personal spiritual journey?
Reflect on the "I choose all!"story: are you more restrained like Céline or expansive like Thérèse? What prevents you from giving or wanting more out of life?
Prayer
For those of us whose minds tend to run in obsessive ruts, 
For those of us with the impulse to manage and control, 
For those of us who can't stop taking our emotional temperature, 
For those of us who tend to hoard money and love, 
For those of us who think we know best, 
For those of us who tend to strive for straight A's on some cosmic re- port card, 
For those of us who are disciplined, sometimes to a fault, 
For those of us who have difficulty forgiving ourselves and difficulty forgiving others, 
For those who didn't make it— St. Thérèse, pray for us.
Resources
Hosts: Walter Emerson and Amy Chase
Contact: podcast@heroic-hearts.com
Follow us on Instagram! heroic2hearts
Thanks for listening to Heroic Hearts! Subscribe for free to receive new episodes.
1
King, Heather. Shirt of Flame: A Year with St. Thérèse of Lisieux. Brewster, MA: Paraclete Press, 2011.