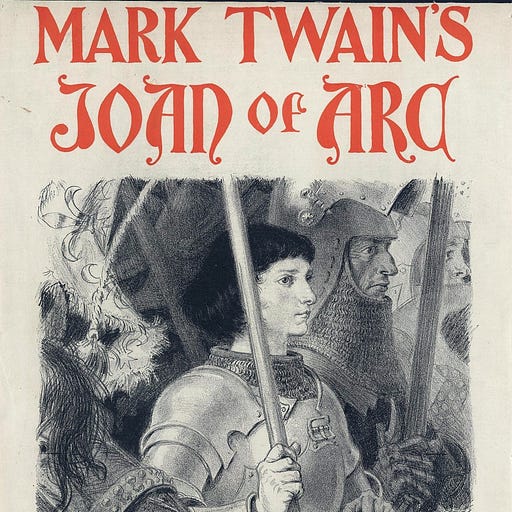 Mar 14, 2022 • 1HR 0M
Mark Twain's "Joan of Arc"
Season 1 Episode 1
Heroic Hearts is a podcast about healing, enchanting, and elevating our hearts through the stories and spirituality of St. Joan of Arc and St. Therese of Lisieux.
In this first episode of Season 1, Walter introduces us to Mark Twain's novel about Joan of Arc, the book we'll be reading and discussing throughout the season. Amy discusses the Hero's Journey motif as it unfolds in Joan's story, focusing on the first stage of that journey called the "Ordinary World". This world consists of the tasks, responsibilities, and concerns that define our every day life--and it often causes us to feel stifled and oppressed. Walter shows us how this world in Twain's story is closely intertwined with an emerging Extraordinary World that will beckon Joan (and us!) to a great adventure.  
Hosts: Walter Emerson, Amy Chase
Find out more at www.heroic-hearts.com
Show Guide:
Enchanting Moments (01:24)

Prayer of the Heroic Hearts (05:46)

"The Personal Recollections of Joan of Arc" by Mark Twain (07:07)

The Ordinary World: First stage of the Hero's Journey (07:17)

Summary of Mark Twain's novel of Joan of Arc (09:40)

The Ordinary and Extraordinary Worlds in Joan of Arc's story (15:46)

Discussion of the Front Matter (16:32)

Twain's character, "Sieur Louis de Conte" (21:40)

The Fairy Tree of Joan's village of Domremy (29:20)

How Mark Twain establishes the theme of two worlds in his novel (31:40)

Joan's encounter with the Vagabond (38:15)

The Vagabond as an allegorical character of France (45:03)

The Song of Roland (47:07)

Reflective Questions and "Being-in-the-Story" (50:55)

Walter's Questions (52:55)

Amy's Questions (54:15)

"God's Grandeur" by Gerard Manley Hopkins (58:24)
Reading Assignment: Personal Recollections of Joan of Arc, by Mark Twain
This episode: Front Matter + Book 1, Chapters 1-3

Next episode: Book 1, Chapters 4-6
Reflective Questions
Walter
When did you first sense a memorable enchanting moment? Can you describe that experience?

Can you describe an experience where you perceived a calling to something greater, to a higher purpose? What happened?
Amy
What aspects of Joan's 15th century Ordinary World are similar to our own? What aspects are different?

Have you ever encountered a vagabond-like character who turned out to be so much more than their appearance? Describe this encounter. What opened up your sight?
Poem: "God's Grandeur" by Gerard Manley Hopkins
Cover Art: Eugène Grasset, Public domain, via Wikimedia Commons