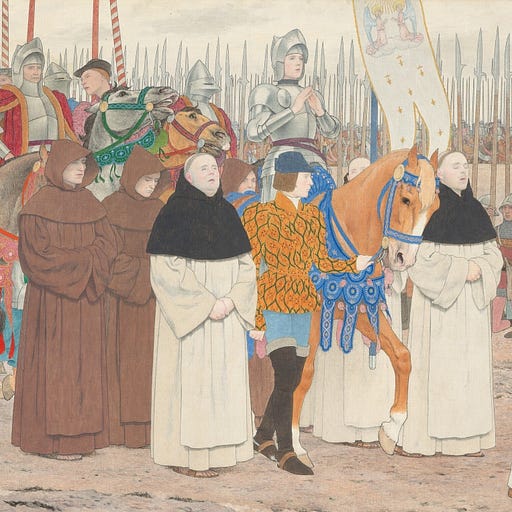 Apr 25, 2022 • 56M
Joan Prepares for Battle
Season 1 Episode 7
Heroic Hearts is a podcast about healing, enchanting, and elevating our hearts through the stories and spirituality of St. Joan of Arc and St. Therese of Lisieux.
In this episode, Walter and Amy discuss Joan of Arc's preparations for war, how she gets her army into fighting (and praying) shape, and their first contact with the enemy. The winds of war are changing for France under Joan's brave leadership and more than one General is in for a surprise!
Hosts: Walter Emerson and Amy Chase
Subscribe to our newsletter! www.heroichearts.substack.com
Show Guide
01:27 Enchanting Moments

09:08 Review of Reflective Questions

15:40 The 7th stage of the Hero's Journey

15:51 Christopher Vogler, "The Writer's Journey"

17:02 The important events of April 29-May 8

18:43 The army assembles in Blois

19:35 Joan meets General La Hire

24:53 La Hire's famous "prayer"

26:33 Veni Creator Spiritus

27:48 Dunois, the Bastard of Orleans

33:51 Joan's captains lead her to the wrong side of the river

36:50 The Changing of the Wind

42:48 The attack on the Bastille of St Loup

44:52 Vita Sackville-West, "Saint Joan of Arc"

46:50 Joan seizes the Bastille of the Augustins

47:30 Walter gives a summary

48:21 Joan brings order and courage to the French forces

50:10 Reflective Questions

53:11 Homework

54:42 "February Afternoon" by Philip Edward Thomas
Reflective Questions
Describe a time when something typical, ordinary, and otherwise of little account happened to you in such a way that it changed your life. 
When the time comes to approach the great contest of your life, will you face it with fear or battle-joy?
Homework
This episode: Mark Twain's "Personal Recollections of Joan of Arc", Bk 2: Ch. 11-20

Next episode: Mark Twain's "Personal Recollections of Joan of Arc", Bk 2: Ch. 21-30
Resources
Poem
"February Afternoon" by Philip Edward Thomas
Cover Art: "The Maid in Armor on Horseback"  (Joan of Arc series II) by Louis Maurice Boutet de Monvel