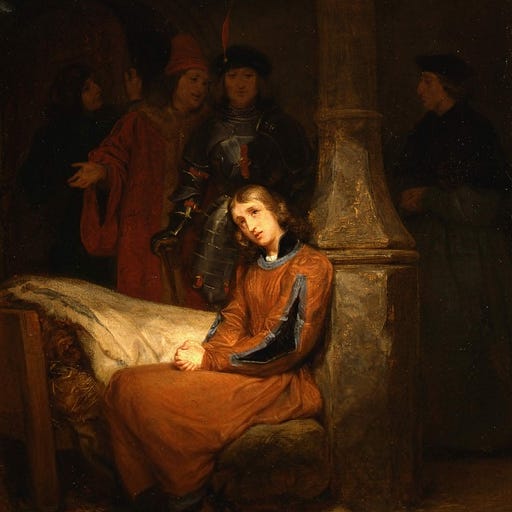 May 23, 2022 • 56M
Joan of Arc's Imprisonment and Trial
Season 1 Episode 11
Heroic Hearts is a podcast about healing, enchanting, and elevating our hearts through the stories and spirituality of St. Joan of Arc and St. Therese of Lisieux.
In this episode, Walter and Amy discuss the 11th stage of Joan of Arc's heroic journey, in which she faces a formidable and unjust trial of inquisition. How does one young woman outwit a jury of 60 learned judges? Listen and find out!
Hosts: Walter Emerson and Amy Chase
Subscribe: www.heroic-hearts.com
Contact: podcast@heroic-hearts.com
Show Guide
02:14 Prayer of the Heroic Hearts
02:54 Enchanting Moments
02:57 Our Lady of Lasalette Shrine
04:48 First Friday Devotion
10:48 Preview of Reflective Questions
12:24 11th Stage of the Heroic Hearts Journey
17:23 The heretical movement of "collegiality"
19:25 Regine Pernoud's "Joan of Arc, Her Story"
22:15 Farewell to the Paladin 😥
24:59 Joan of Arc's capture and imprisonment
27:15 The political context of Joan of Arc's trial
31:34 Pierre Cauchon, the Bishop of Beauvais
38:12 St. Joan of Arc Center in Albuquerque, NM
45:47 Charles VII as the political target during Joan of Arc's trial
Reflective Questions
Have you ever felt wrongfully accused and in a matter of great importance? Describe what that was like and how you managed to get through it.
Have you stood on the sidelines of a great injustice? How did you respond? Would you respond differently today?
Reading Assignment
This episode: Mark Twain's Personal Recollections of Joan of Arc, Bk. 3, Ch. 1-12

Next episode: Mark Twain's Personal Recollections of Joan of Arc, Bk. 3, Ch. 13-24
Resources
Cover Art: Joan of Arc in Prison by Gillot Saint-Evre, Public domain, via Wikimedia Commons