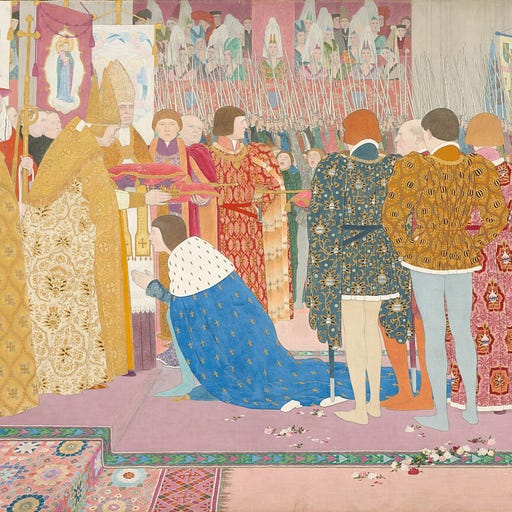 May 9, 2022 • 54M
Joan of Arc Crowns Her King
Season 1 Episode 9
Heroic Hearts is a podcast about healing, enchanting, and elevating our hearts through the stories and spirituality of St. Joan of Arc and St. Therese of Lisieux.
Walter and Amy discuss Joan of Arc's crowning achievement (literally!) in the 9th stage of her heroic journey. Also, the importance of ceremony and ritual is considered in view of Charles VII's coronation.
Show Guide
01:15 Enchanting Moments

03:46 Icon painting

07:33 9th Stage of the Hero's Journey

08:28 Josef Pieper - In Tune with the World

09:02 St. Chrysostom quote

09:36 Reflective Questions

13:50 Battle of Patay

19:10 Attempts to downplay Joan of Arc's story

23:11 Mark Twain lists the "Great Deeds of Joan of Arc"

26:56 The Bloodless March

31:57 Joan ransoms the prisoners at Troyes

35:55 Drawing of Joan of Arc

36:57 The Coronation of Charles VII at Reims

38:44 Clovis, first Christian king of France

41:50 The Holy Coronation Anointing Oil

46:58 Bedford has Henry VI crowned in Paris

49:23 Jonathan Pageau and the Symbolic World podcast

49:30 Crowning of a king as the founding ritual marriage ceremony

53:24 Christmas in July!

54:19 Reflective Questions Recap

59:21 USS Carl Vinson

01:00 Homework

01:01 "The Gift" by Mary Oliver
Reflective Questions
Can you describe a time when you were awed by something greater than yourself? How did this experience empower and inspire you?
What place do ceremony and ritual hold in your life? How might such celebrations serve to enrich and elevate important moments in your life?
Reading Assignment
This episode: Mark Twain's Personal Recollections of Joan of Arc, Bk. 2: Ch. 31-35

Next episode: Mark Twain's Personal Recollections of Joan of Arc, Bk. 2: Ch. 36-41
Resources